Hi everyone! I am SO excited to be co-hosting this week's Creative Closet with Jana and Maegen – they're wonderful bloggers, and always dressed so beautifully too! I've definitely expanded my wardrobe ideas since I started to link up.
If you're new here, check out my About page to find out why Drink the Day exists – I promise it's short and sweet ; ) Now, let's get to the outfit!
The moment I saw the prompts for May, I immediately signed up to co-host Pattern on Bottom – solely because of this amazing skirt. I found it at the Gap a few years ago, and I patiently wait all year round to wear it on repeat during the summer months.
Did I mention it's also a dress? No? It's also a dress. I guess that means it's actually a dress that I've folded over into a skirt, but the tag suggested it so I'm not taking any credit.
The first time I wore this outfit while visiting Naples, FL in February, I briefly worried if I was perhaps too old for a crop top. Then I decided I quite frankly did not care what anyone in Naples thought about my pale abdomen and wore it anyway ; ) We'll see if I have that same bravado in Avalon in a few weeks… Time to stock up on self-tanner?
Seriously. How amazing does Jana look right now?! I can only hope to look HALF that good when I'm pregnant. And speaking of "chic" mamas, Maegen is absolutely rocking this week's outfit.
Please don't forget to link back to my post, Jana's or Maegen's and let people know you're joining us for The Creative Closet! Alternately, you can share the button in your post or on your sidebar. I'm SO excited for next week – lace is absolutely perfect for the summer months!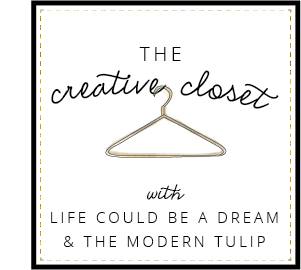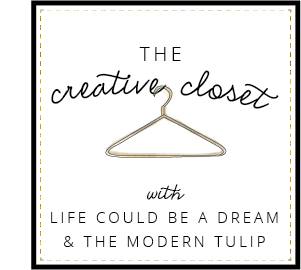 This awesome linkup will go live every Tuesday at 12 am EST. Bloggers will be able to submit their take on the week's prompt. We hope you'll use this linkup to get creative with your style, make friend's, inspire and be inspired, and grow your blogging community. We're so thrilled you want to link up with us!
Here are the rules:
1) Follow your hosts and the week's co-host (first 3 links)
2) Visit and comment on 5 other blogs–don't just share your link and run! That's no fun. Remember to be an encourager! : )
3) In your blog post, share either The Creative Closet button or a link back to this post on your blog.
Optional, but oh so recommended:
4) Share your look on social media using #thecreativecloset